Over the coming months, we'll be profiling local businesses and hotspots near the Kanaka Springs community. Stay tuned to learn about the best local businesses and services that will become part of your new life as a resident of this new community.
Living at Kanaka Springs is all about community spirit and natural beauty – a value we share with nearby Kingfishers Waterfront Bar and Grill.
Imagine living at Kanaka Springs and heading out for a day hike on the local trails. At the end of the day, you can zip down to Kingfishers to enjoy a cold, local brew and fresh fish or a burger with the family!
We recently chatted with General Manager Greg Herman about this fabulous 201-seat local eatery just minutes from Kanaka Springs. Check out the full video and article feature below!
What to expect at Kingfishers
Kingfishers Waterfront Bar and Grill is on the banks of the Fraser River in Albion, a 7-minute drive from the Kanaka Springs Community.
It's been a staple of the community for over 15 years. They have grown alongside the community, yet even with all the development in the area, Kingfishers remains rooted in their local values: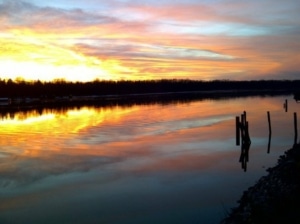 "The area has grown so much, yet you still have that wonderful outdoor beauty carved into the community. And you also get a real sense of sort of a hometown feeling." Greg Herman, General Manager, Kingfishers 
Their dining room features two-story large open windows that look out to the Fraser River. When the weather is nice, they open their two large outdoor patios so you get a front-row seat to the natural serenity of the river and beautiful sunsets.
BC-Proud
Kingfishers is proud to support local foods, drinks, and entertainment as much as possible. To ensure their ingredients are as fresh as possible, they source everything as close to Maple Ridge as possible, including buying their meat from the local butcher, Iron Butcher, down the road.
Family Friendly
The Kanaka Springs community is very family-oriented, and we know you want local dining options where the whole family can dine together. That's why we're so excited that Kingfishers welcomes kids in the dining room and even has a special "Young Guests Menu" to make them feel extra special.
How to Dine at Kingfishers
Kingfishers is excited to welcome you to their house for dine-in, take-out, or delivery. Check the Kingfishers website for current dining hours and menus.
About the Kanaka Springs Community
Kanaka Springs is a 60-acre master-planned community of townhomes and single-family homes coming soon to the North-East quadrant of the Albion area in Maple Ridge. You'll live alongside other young professionals, families, and empty nesters — people with local values, authentic lifestyles, and friendships.
Get exclusive updates and early access when the first homes are released for presales. Register now to be in the know on this exciting new development coming to east Maple Ridge.
Address: 23840 River Rd, Maple Ridge BC
Take-Out: 604.463.0974
Order Online
Follow them on social media: