Welcome back to our series where we meet and profile local businesses and hotspots near the Kanaka Springs community. Stay tuned to learn about the best local businesses and services that will become part of your new life as a resident of this new community.
Whether you're looking for trendy home decor or locally made bed and bath items, Oak & Ivory Collective has something for everyone. They are located in Cottonwood Crossing (240th and Dewdney Trunk) and have been open for a year and a half.
Music: https://www.bensound.com
Owner Erika and her sister Jacquelyn started their business in their mom's garage, making soaps and selling them at local markets. Shortly after, they started hosting their own pop-up events with fellow small business owners and artisans they met through these markets.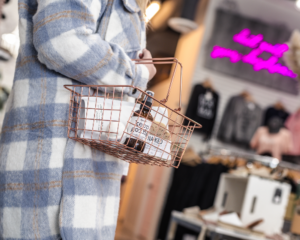 Then they realized they needed a more permanent location where people could buy locally made items every day of the week (not just once a week or month at the market).
Today, the community element is prevalent in their shop through the wide variety of quality local artisan gifts and household decor. They have only Canadian-made clothing, bed and bath items, home decor, and sweet treats for every craving.
What to expect at Oak & Ivory
Oak & Ivory is a great place to buy housewarming gifts for others or something special for yourself. The staff are warm and welcoming and love to hear your story. They enjoy meeting new people and listening to the story of your journey to Maple Ridge.

When you walk into the shop, you may meet Erika, the youngest of the three owners, but who comes with plenty of small business experience. She'll be the one with her hair in a top knot and scrunchie.
You might run into Jacquelyn, Erika's sister, who is a wife and mom of two beautiful boys. She's the one in the family with the green thumb and is often seen in a good pair of jeans and a comfy crew neck.
Gladys may be around too. She's affectionately known as the "Mom-ager," helping around the store. You may spot her sipping a cup of Orange Pekoe Tea behind the counter.

Why they love the community
Erika loves living in the community because she's never more than five minutes away from the fresh air and nature. She enjoys meeting neighbours on walks along the Fraser River or at Gold Creek.
About the Kanaka Springs Community
Kanaka Springs is a 60-acre master-planned community of townhomes and single-family homes coming soon to the North-East quadrant of the Albion area in Maple Ridge. You'll live alongside other young professionals, families, and empty-nesters, many of whom share a love of nature and supporting local businesses like Oak & Ivory.
Get exclusive updates and early access when the first homes are released for presales. Register now to be in the know on this exciting new development coming to east Maple Ridge.