If you've driven down 112th Avenue through Kanaka Creek Regional Park lately, you may have noticed some big changes. We've started work on our newest community: Kanaka Springs. We've been envisioning and shaping this project for years, and we're excited to update you on our progress and share what's next in the development of this 60-acre master-planned community on the outskirts of Kanaka Creek Regional Park.
Where it all started…
This community has been a focus of ours since 2015 when we first started planning this community near Kanaka Creek. We envisioned a place immersed in nature, yet not far from the conveniences of the city. It's a master-planned community where active couples, families, working professionals, and first-time homebuyers can live together, wave to each other on the street, gather for community block parties, shop locally and live next to nature.
"We've been carefully planning and shaping this 60-acre community for years," says Cole Lambert, CEO of Epic Homes. "We are incredibly excited to soon break ground on our first show homes and officially open Kanaka Springs later this year."
What we're working on now…
If you've driven by our site you likely noticed we've started preparing the land for the first phases of the Kanaka Springs community. Aside from that, much of our focus has been on developing and connecting the underground city services. We're working with Gemco Construction to ensure that all underground municipal work is completed before we begin building our first homes. This includes building a brand new municipal pump station near 112th Avenue, a new pedestrian bridge over Kanaka Creek and the first stages of the 1.2km of connective trail network.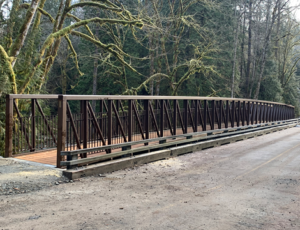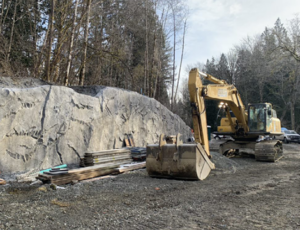 Our teams have also completed preparations for installing curbs in the new community and are getting ready to pour them when we get a good break in our rainy west coast weather.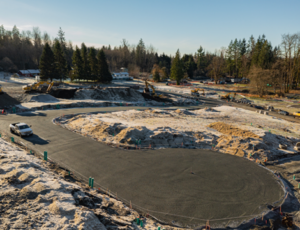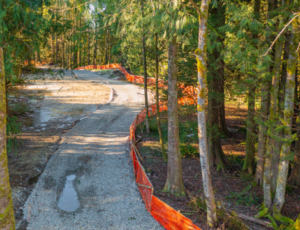 What's happening next? 
Once the underground infrastructure is completed, we can begin building the first phase of CREST Single-Family Homes and roadways in the new community. This is where things start to get exciting!
Next, we're preparing to:
Pave the community roads and sidewalks
Begin landscaping by planting street trees and digging swales for rainwater runoff
Start excavation and building of our first show homes – Woo-hoo!
We're busy behind the scenes working on this, and we'll share an opening date for the showhomes in the coming months.  We are working hard on every little detail and we think you'll love the result!
"It's pretty cool to see the transformation so far, and we're far from done," says Lambert. "I think homeowners are going to get excited about seeing this community surrounded by an absolutely gorgeous natural environment. It's going to make our community unique  and a compelling opportunity for new home buyers." 
To ensure the community never loses its connection to nature, 20 of the 60 acres of this community will be dedicated to new or preserved green spaces, which will help the community maintain an in-nature feel when they step outside their front door.
How do I stay informed?
Don't forget to register today to receive priority access to updates on our Crest single-family homes. You're not far from rediscovering your relationship to nature at Kanaka Springs.